To recognize National Indigenous History Month, BCNPHA will be shining a spotlight on the amazing work of Indigenous housing providers throughout BC. Each week in June, we'll share these stories of resilience, success, and innovation here and across our social media channels.
We kicked things off with the Victoria Native Friendship Centre, located on Vancouver Island. Last week we featured the the Dakelh & Quesnel Community Housing Society (DQCHS) for their newest development, Stepping Stone. This week we are highlighting Kekinow Native Housing Society and their work in providing culturally supportive homes for Indigenous communities in Surrey.
Meeting the Needs of Surrey's Large – and Growing – Urban Indigenous Community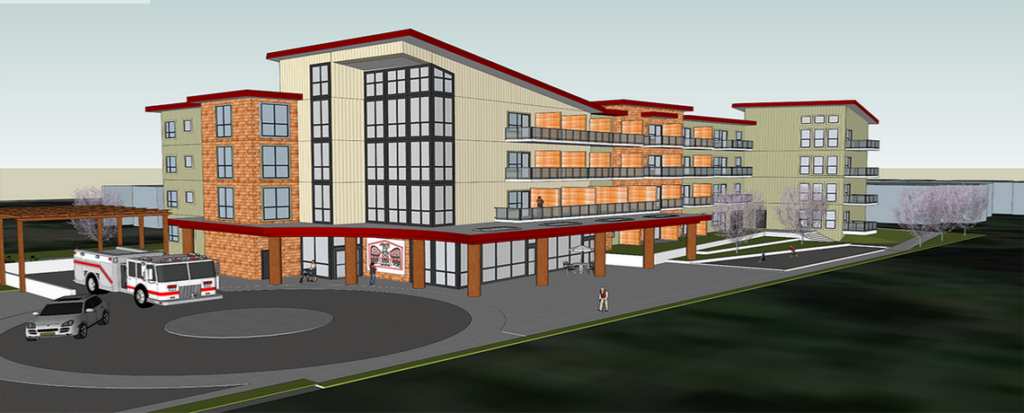 As the only urban Indigenous housing provider in Surrey, Kekinow Native Housing Society is working hard to expand its housing portfolio to serve the community. According to a report by Skookum Surrey, there are more urban Indigenous people in Surrey than Vancouver, but only a fraction of the Indigenous service organizations and housing units exist.
Kekinow aims to meet that demand with a growing portfolio of culturally supportive homes for Indigenous people in Surrey. The organization opened its doors in 1987 and has since developed 239 units across five complexes in Surrey, and one in Chilliwack.
More recently, Kekinow has been redeveloping several properties; at Sohkeyah, 33 townhouses were demolished in two phases to create 177 new apartments. Phase 1 has been completed with 73 units and Phase 2 will be completed by summer 2024 to open 104 more units. The work is underway on rezoning the existing Kechi-O-Wekowin property, which will add up to 176 new units to the portfolio in two phases. Kekinow is also collaborating with provincial health authorities to develop an Indigenous Wellness Centre at Kechi-O-Wekowin .
In 2020 the organization created a sister society, Kekinow Indigenous Programs and Services Society (KIPSS), to provide more focused programs and services to the Indigenous community in Surrey. These include cultural outreach and access to support workers to ensure individuals and families have access to resources, such as counselling and connections within and outside the community.
KIPSS is also aiming to increase the capacity of local youth and Elders to better understand the needs of Indigenous people at risk of or experiencing homelessness. Wraparound service provision strengthens individuals' connection to the community, with a focus on Elders – building essential skills within informal community support networks using a cultural approach rooted in traditional values.
As a part of this endeavor, KIPSS started employment training programs and engaged with other services providers who come to Kekinow's housing sites to provide services like dental hygiene, yoga, mental health counselling, safety training for women, and more.
For more information about Kekinow, please visit kekinow.ca.
Previous Story Spotlights
Helping Urban Indigenous Youth Find a Safe Place to Call Home
The Victoria Native Friendship Centre wants to help urban Indigenous youth "get ready, get set, and soar into healthy futures," and they're asking for the public's support to help make that happen.
With Urban Indigenous youth drastically overrepresented in foster care, homelessness, and incarceration rates, VNFC is working on building a new 45-unit housing community so that young people have a bed to call their own – and a place to call home.
The project will join Siem Lelum, VNFC's existing 50 units of affordable, culturally supportive housing, and their many programs and services including for children and Elders, career and life skills education, cultural workshops and more.
VNFC is seeking to match $1.3 million in funding for a new multi-unit housing community with space for on-site supports and services. They have the partnerships, private funding, and an offer on two centrally located properties in Victoria – now they just need the matching $1.3 million to complete the deal.
LEARN MORE IN ONE OF THESE READY, SET, SOAR VIDEOS:
Stepping Stone to Culturally Supportive Housing
In April the Dakelh & Quesnel Community Housing Society (DQCHS) celebrated the opening of its newest development, a 26-unit affordable housing complex for Indigenous Elders, couples and people living with disabilities.
Stepping Stone features 26 one-bedroom homes, of which 14 are adaptable and three are accessible, as well as culturally specific amenities like an Indigenous food storage area.
The new project means Indigenous people in Quesnel can live in secure, affordable homes that are close to their family, community, and culture.
Stepping Stone also adds to DQCHS' portfolio of affordable homes in Northern BC. The organization was originally founded in 1986 and has grown from its original 10 homes to a society that now operates 182 units including houses, apartments, and townhomes, making it one of the largest affordable housing providers in Quesnel.
In addition to housing, DQCHS provides services including tax filing, budgeting, seniors' support, and more. Executive Director Luanne Ruotsalainen said the food program that was shut down due to COVID will be restarting in July, and the monthly meet-and-greets to connect with tenants over a meal or a coffee is back in track.
Additionally, the organization is starting a community kitchen program, in which tenants can learn how to cook or just join the fun and take the delicious results home with them.
To learn more about DQCHS, please visit dqchs.org.