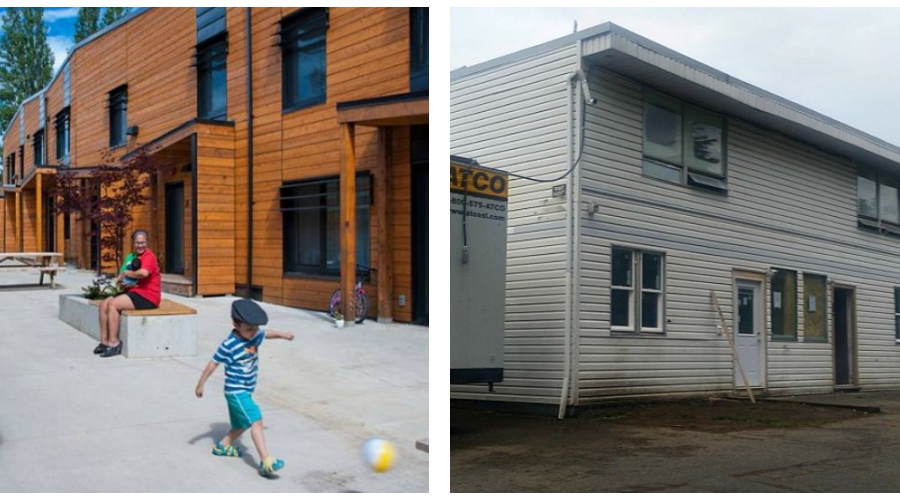 Spencer Sterritt / Nanaimo News Now / November 22, 2018 (with mention of BCNPHA)
NANAIMO — In just two years, the Nanaimo Aboriginal Centre has gone from no affordable housing projects to being awarded the Affordable Housing Provider of the Year award.
The non-profit organization was presented with the award on Sunday, Nov. 18 by the BC Non-Profit Housing Association for their efforts housing families in need.
The Nanaimo Aboriginal Centre purchased and renovated the troubled King Arthur Court housing complex deep in the Harewood neighbourhood and also built new units on Bowen Rd. In two years, they created a total of 60 affordable units which fall below the 80 per cent of market rate threshold to be considered affordable.
Executive director Chris Beaton told NanaimoNewsNOW winning the award will hopefully give them leverage to provide even more housing.
"We now understand even moreso the desperate situation in terms of families looking for housing in this city. Two years ago people weren't calling us about housing and now they're calling every day to see if we have vacancies."
Both housing projects are full and the waitlist grows every day.
The two developments help with a relatively niche market in Nanaimo: affordable family homes.
Most of the affordable housing units being built across Nanaimo are bachelor or single-bedroom apartments not suitable for a family with children, which make up most of the tenants at the Centre's available housing.
While the housing development on Bowen Rd. is complete, there's still much work to be done at the old King Arthur Court.
Renamed "Sanala" last spring when the work began, it's turned from a criminal haven to a family-friendly and fairly viable housing option.
The building itself is 50-years-old and was, as Beaton politely referred to it, "beaten up over the last few decades. A lot of criminal activity happening on the property, unsafe and unhealthy conditions for young people and families. I think we've changed that dramatically."
The next step is completely rebuilding the complex, instead of renovating it and making due with sagging infrastructure. A great challenge will be not displacing anyone currently living there during construction.
Even if funding was secured tomorrow, Beaton said it would be a few years until the doors opened at a completely redesigned Sanala.
The Nanaimo Aboriginal Centre currently has three funding proposals being considered by BC Housing, to bring more affordable family units to those in need.
https://nanaimonewsnow.com/2018/11/22/nanaimo-aboriginal-centre-awarded-for-taking-great-strides-to-provide-affordable-housing/