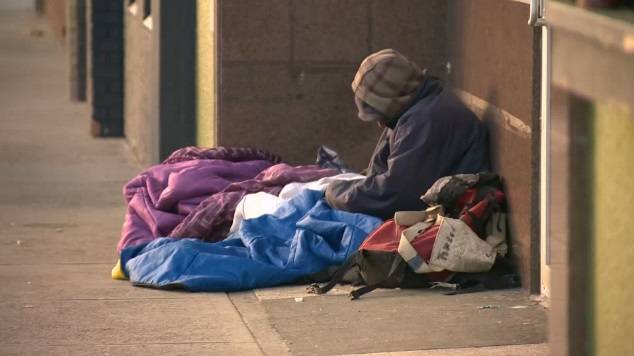 Simon Little / Global News / October 4, 2018 (with mention of BCNPHA)
There are nearly 700 homeless young people in Metro Vancouver, according to the region's first-ever youth homeless count.
The exercise, which was conducted by the B.C. Non-Profit Housing Association between April 4 and 12, found at least 681 people aged 13 to 24 without a home.
Most of them are either living on the streets or couch surfing, many because of family conflicts, drug addiction or mental illness, according to the report.
READ MORE: Seeking 'hidden homeless,' Metro Vancouver kicks off first-ever youth homeless count
Advocates of at-risk youth, such as Jennifer Hanrahan with St. Leonard's Youth and Family Services, say more needs to be done to help families keep children at home.
"The cost-benefit analysis has been done… We know prevention leads to greater outcomes," she said.
"Unfortunately, we get into a crisis operation where all our money, not all of it but a lot of our money goes into intervention services and crisis management services versus early intervention services."
Because it is the first study of its kind, the numbers produced by the count can't be directly compared to other regional homeless counts. However, organizers say it will establish a baseline for future surveys.
The study found the largest number of homeless youth, 349, was in Vancouver. Surrey had the next largest homeless youth population at 106, and the North Shore at 64.
WATCH: 2018 Vancouver homeless count expected to surpass last year
Nearly three out of four homeless youth were either couch surfing, staying in a shelter, a transition home or a detox centre or recovery house. More than half said they left home because of family conflict.
The study found a similar number of youth said they had become homeless because of a lack of income, something Joanne Mills, executive director of the Fraser River Aboriginal Friendship Centre Association, said was disturbing.
"In no other population do we expect our 16, 17, 18-year-olds to be able to sustain themselves in a place like Metro Vancouver. We have two-parent income families who are having a hard time sustaining themselves," she said.
READ MORE: Seniors represent 23% of Metro Vancouver's homeless population
"We're expecting them to be as adults, and we're forgetting that we need to be supporting these young people. They should be worrying about things like sports and school and whether or not they're going to be able to see their friends on the weekend, and they're citing a lack of employment as a reason they don't have a home.
The count also found the region's homeless youth were disproportionately from Indigenous communities, with more than four-in-10 claiming Aboriginal heritage.
Forty-four per cent of homeless youth were female, while 26 per cent were LGBTQ, and a further four per cent identified as another gender.
Metro Vancouver's last full-spectrum homeless count found more than 3,600 homeless people in the region.
https://globalnews.ca/news/4519143/nearly-700-homeless-youth-metro-vancouver-new-study/