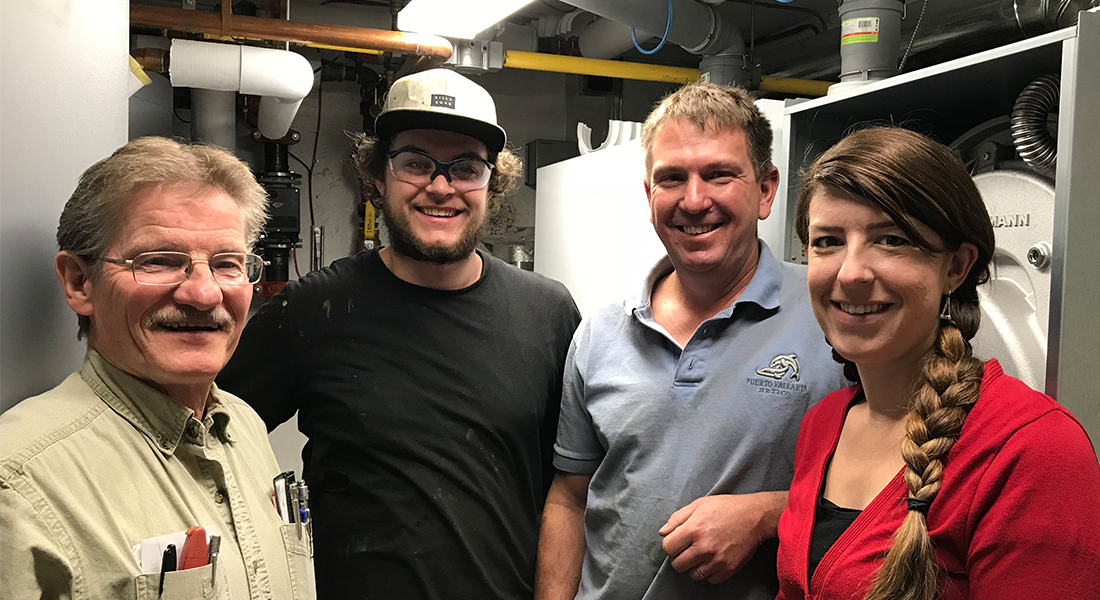 Chrysalis House in Fernie is enjoying a warmer, cozier winter thanks to new energy efficient equipment that will also be saving them money.
Katey Taylor, manager of Elk Valley Family Society's Chrysalis House, says residents have noticed a difference in the quality of hot water delivery: "Our residents are already commenting on how quickly hot water is arriving to their units."
None of this could have been possible without funding from the Columbia Basin Trust's Energy Retrofit Program, a partnership between the Trust, BC Non-Profit Housing Association and BC Housing for non-profit housing providers in the Basin.
Chrysalis' old boiler was in rough shape, adding to their maintenance costs and inconveniencing residents. "Our equipment was over 20 years old," which is considered the end of its rated economical life. "Every time the power went out, we would have to restart the boiler." Restarts make the system work harder and less efficiently. It was no wonder maintenance repair costs were increasing and would only continue to grow.
Adding to the maintenance headaches was the hot water heater – also over 10 years old. It would cycle on and off due to inefficient controls, making it less efficient and more expensive to operate. The water heater and boiler together were replaced with a new condensing cascade boiler system, which is anticipated to run from 70 to 92.5% efficiency.
Chrysalis House will now save up to an estimated 210 GJ of natural gas a year, which translates to a financial savings of $1,756 annually. This means the society saves tens of thousands of dollars over the life of the boiler, money that can be better spent ensuring building occupants and their building are well cared for.
"We are so excited about our energy upgrades at Chrysalis House," said Taylor, who no longer has to make calls for expensive repairs while residents wait without heat or hot water.
"This is a huge relief going forward knowing that our building is safe and comfortable for our residents for years to come. It also relieves the society of a huge financial burden in the near future."
BC Non-Profit Housing Association's Asset Management staff guided the Elk Valley Family Society throughout the retrofit with help in contracting an engineer for equipment sizing and pricing, submitting an application to this program, and helping them access funding from FortisBC and BC Housing to leverage the Trust's funding.
"Thanks to the Trust, BC Non-Profit Housing Association, BC Housing, and Fortis BC for making this such a great experience," Taylor said.
Click here for more information about our Columbia Basin Trust Energy Retrofit Program.
If you have any questions, please contact BCNPHA's Asset Management team at BasinERP@bcnpha.ca.