Throughout February the Housing Central partners are celebrating Black History Month by sharing stories of prominent individuals who made a positive impact on our communities – and in the process, helped shape this province and blazed a trail for the Black community.
In our first story we are touching on the football fever surrounding a particular event this weekend and showcasing the outstanding accomplishments of athlete, social worker, politician and community builder Emery Barnes. Anyone familiar with US college sports, BC's political history and the beloved Canadian Football league will recognize Barnes' legacy – memorialized with a prominent Vancouver park named after him in 2003.
Fun Facts:
Birth: December 15, 1929, New Orleans, Louisiana
Canadian professional football player and politician
Speaker of the Legislative Assembly of British Columbia
In 2003 the City of Vancouver named a park in his memory at 1100 Seymour Street.
Spotlight: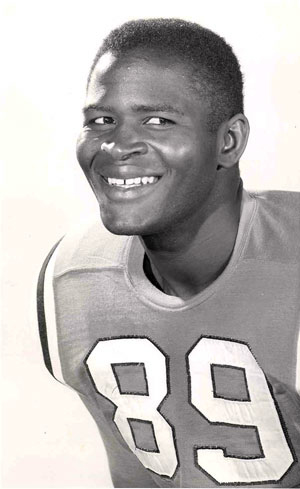 Did you know that Yaletown's Emery Barnes Park is named after a man from Louisiana, whose athletic gifts brought him to Canada and to the B.C. Legislature?
In 1952, Emery Barnes was an alternate for the US Olympic high-jump team; he also played football for the University of Oregon and was drafted by the Green Bay Packers in 1954.
It was football that led him to Canada, and ultimately Vancouver, where he found himself in the Canadian Football League, playing with the BC Lions when they won the Grey Cup in 1964. It was during this time when he graduated with a degree in social work from the University of British Columbia.
Following his outstanding years in high jump, track and field and football, he dedicated his life to helping the marginalized and disadvantaged, and also became the Director of Children and Teenage programs at the Killarney Community Centre.
In 1972, Barnes and Rosemary Brown were the first Black politicians elected to a legislative office in British Columbia, where he was re-elected for four consecutive terms and served our province until 1996. In 1994, he was elected Speaker of the Legislature in BC, the first Black person in any Canadian province to hold this position. As Speaker of the Legislature, Barnes also sat on the Order of BC Advisory Council, which makes recommendations for the Order of BC award.
Barnes worked with the BC Black History Awareness Society (established 1993) to develop the Greater Victoria School Board's curriculum and to build a cultural community in Vancouver for those of African heritage. He was also the first president of the BC Black Cultural Association.
Barnes passed away on Canada Day in 1998 and forever remains in our history books as an inspiring advocate who dedicated his life to tackling the struggle for racial equity.