The $500-million fund will enable non-profits to purchase buildings and protect affordability for current and future tenants
Unceded traditional territories of the xʷməθkʷəy̓əm (Musqueam), Sḵwx̱wú7mesh (Squamish), and səlilwətaɬ (Tsleil-Waututh) Nations, Vancouver BC (Jan. 12, 2023) – The provincial government announced today that a new $500-million fund will be managed by B.C.'s community housing organizations to help deliver safe, affordable, and culturally supportive housing for individuals and families across B.C.
The newly developed Rental Protection Fund will enable non-profits to purchase and manage residential buildings to secure their affordability forever. This investment will lay the groundwork for better long-term livability, equity, and affordability in B.C. The Fund will assist non-profits to address the impact of the housing and homelessness crisis and help correct the past decade's significant erosion of rental homes available to low- and moderate-income British Columbians.
The Fund will be jointly managed and distributed through a non-profit society created by the Aboriginal Housing Management Association (AHMA), BC Non-Profit Housing Association (BCNPHA), and the Co-operative Housing Federation of BC (CHF BC).
"We look forward to working together on a solution to one of the most persistent problems in our current housing market – the growing loss of affordable rental housing," said Thom Armstrong, CEO of CHF BC. "There has never been a more important time to focus our collective knowledge, experience and energy on the protection of rental homes for those who need them most.
"The Fund brings together the leadership of the community housing sector to partner with the province in the protection of permanently affordable homes for British Columbians," Armstrong added.
The three organizations tasked with implementing the Fund have represented the non-profit and co-op housing sectors for decades. We are partners in Canada's longstanding and largest annual professional event for the community housing sector, and in a wide range of research and advocacy initiatives that have demonstrated the urgent need for more affordable housing options across B.C. We work collaboratively to further our shared mission of ensuring everyone has an affordable place to call home; as the organizations closest to the housing challenges facing our province, and whose members already manage most affordable housing in B.C., we are well-positioned to deliver this funding to support British Columbians effectively.
"Advocating for new investments into affordable homes has long been our top priority, and yet, building alone is no longer sufficient to solve our housing crisis," said Jill Atkey, CEO of BCNPHA. "The Rental Protection Fund helps to secure affordability in rental buildings as they come on the market, and is a critical piece of a robust housing strategy. The Fund is sector led and the assets will be non-profit owned, meaning their affordability will be secured forever."
The development of an acquisition fund was also endorsed by the Expert Panel on the Future of Housing Supply and Affordability. The panel recommended that such a fund be used to enable non-profit housing organizations to acquire currently affordable residential properties at risk of being repriced or redeveloped into more expensive units, with conditions that existing tenants not be displaced.
According to Margaret Pfoh, CEO of AHMA, "the Fund will utilize sector expertise at the community level with the least administrative resistance. This means that those most critically in need in our current housing crisis will have options available more quickly and seamlessly."
"A committed response that includes sustained investment in culturally supportive, trauma-informed Indigenous housing is critical for societal well-being," says Pfoh. "In B.C., over 70% of Indigenous people live in urban areas, away from reserve lands and the support of their Nation. Some Indigenous people don't even know which Nation they are originally from due to colonial oppression and the impacts of the residential school system. Having appropriate housing available for Indigenous families living in urban environments provides for healing and ultimately saves lives."
The Fund will help the community housing sector address the ongoing net loss of affordable housing we've seen for more than 10 years. For every new affordable rental home that is built, we lose three more to investors, conversions, demolition and rent increases.
Research shows that purchasing existing rental buildings, and preserving their affordability for current and future tenants, is a cost-effective way of protecting the affordable rental housing we already have. The Fund's one-time capital grants will enable non-profit housing providers to leverage financing from additional sources to purchase residential rental buildings and maintain current rent levels; as the financing is paid down, housing providers can draw on the equity to develop additional affordable housing.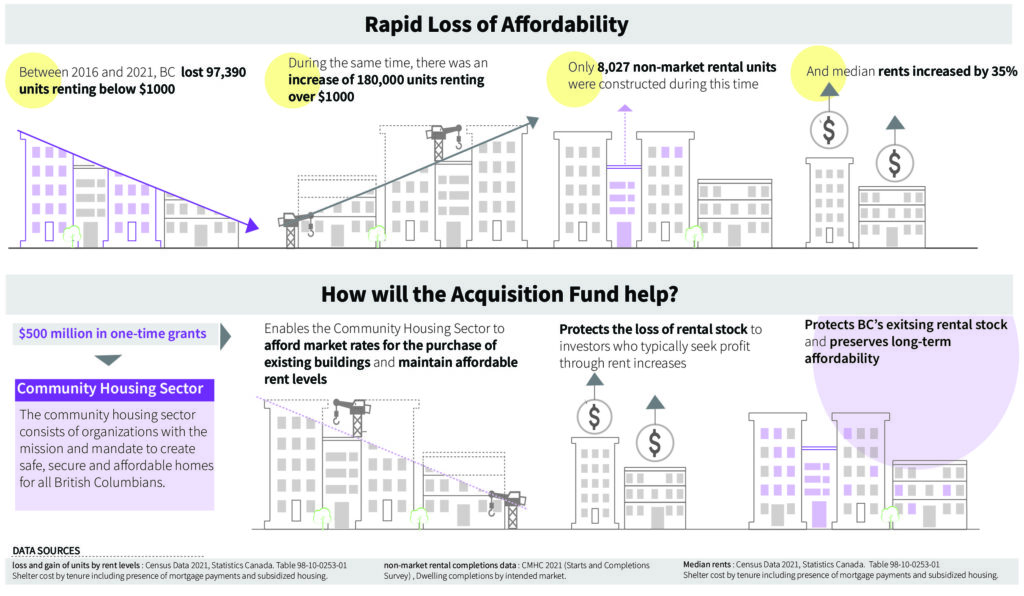 We look forward to sharing more information about this innovative sector-owned and sector-led strategy by April 2023, and anticipate the Fund will be operational later this spring.
Background:
AHMA is a grassroots organization made up of 55 members that represent over 95% of Indigenous Housing and Service providers in BC. AHMA members support almost 10,000 Indigenous families living in urban, rural, and northern regions of BC. Created for Indigenous Peoples by Indigenous Peoples, AHMA has 25 years of experience and expertise as the first Indigenous Housing Authority in Canada.
BCNPHA is the provincial umbrella organization for the non-profit housing sector. We serve our members and the entire sector across BC through education, events, and advocacy.
CHF BC is a co-operative association made up of member housing co-ops and related organizations in BC. The association represents 260 non-profit co-op communities comprising more than 15,000 households across the province.