The provincial budget released on Feb. 22 delivered much-needed funding increases that will support the community housing sector, but fell far short of implementing the strategic recommendations submitted by Housing Central partners BC Non-Profit Housing Association and the Co-operative Housing Federation of BC. The recommendations submitted to the Select Standing Committee on Finance and Government Services last fall were designed to strengthen housing affordability in the province:
1. Move up $4.2 billion in housing supply investments so it can be spent immediately. The provincial government has $4.6 billion planned in housing investments between 2022 and 2028, $4.2 billion of that money could support the production of 10,000 affordable housing units waiting for funding.
2. Commit $500 million in capital funding to develop a provincial rental housing acquisition strategy, that helps non-profit and co-operative housing providers in the community housing sector to acquire rental housing stock as it comes up for sale on the market.
3. Dedicate $10 million to off-set Property Transfer Tax on land lease renewals to preserve current levels of affordability for homes on land with expiring land leases in 2022-2023.
As expected, the updated budget did not address all our asks, or at least not to an extent that would significantly address the housing crisis in the province. That said, there are a few key highlights from the 2022 Budget that are noteworthy for the community housing sector:
Increased budget for the Community Housing Fund
Budget 2022 builds on the investments made in Budget 2021 by adding $166 million to accelerate progress made towards the goal of building 114,000 affordable housing units in the province by 2028. Out of this total, $100 million was moved up to the 2022/23 Building BC's Community Housing Fund budget to build approximately 850 new units. Although the 2022 Budget documents do not detail which projects will receive this funding, we can expect that some of the 10,400 outstanding units proposed in 2021's call for proposals will benefit from it.
Moreover, $8 million has been allocated to support the HousingHub's project development capacity, which has funded 4,200 currently underway or completed units to date.
Prevention of and response to homelessness
Budget 2022 brings an increased budget to address homelessness, implementing a "more coordinated approach which recognizes the importance of consistent, accessible, and integrated services." Over $633 million will be invested across different programs, building upon previous and existing investments. The government highlights four main areas of focus:
Supporting Youth at Risk of Homelessness – $35 million
Over the next three years, this funding will help to expand supports for youth under government care beyond their 19th birthday, in some cases up to their 27th birthday. This is a result of evidence showing that nearly 50% of those who have interacted with the government system as youth or children have experienced homelessness at some point in their lives.
Expanded Response to Support People Experiencing Homelessness – $170 million
These supports consist of a joint program with the federal government offering up to $600/month to help people access market housing, with the aim of having 3,000 clients supported by 2024/25. Other supports include: $4 million to provide supports through BC Housing for individuals experiencing homelessness and living in encampments; funding to support the 2023 provincial homeless count, and research to identify the unique needs of women experiencing homelessness.
Complex Care Housing – $164 million
This budget builds on initial investments made to the complex care pilot program launched in January 2022, which included $4.8 million to support 103 spaces in 4 supportive housing buildings in the Lower Mainland. The new funding will support at least 20 additional sites and approximately 500 more individuals "with severe mental health, substance use issues, or traumatic and acquired brain injuries who are homeless or unstably housed."
Continued Response to COVID-19 for People Experiencing Homelessness – $264 million
One area of focus for the next three years is helping individuals temporarily housed in the 3,000+ spaces secured by the province as part of their COVID-19 response to transition to permanent housing arrangements. Capital funding of $63 million and $50 million in operating funding will be allocated to acquire and implement permanent housing solutions. The remaining $150 million will be invested in Pandemic Recovery Contingencies to continue to extend the temporary housing alternatives provided. Up to $230 million is expected to be invested in the first fiscal year.
Key areas of investment across the years
Budget 2022 builds on housing investments made in previous years and though it increases the budget across the board, it doesn't represent a significant leap compared to other years as the graphs below illustrate.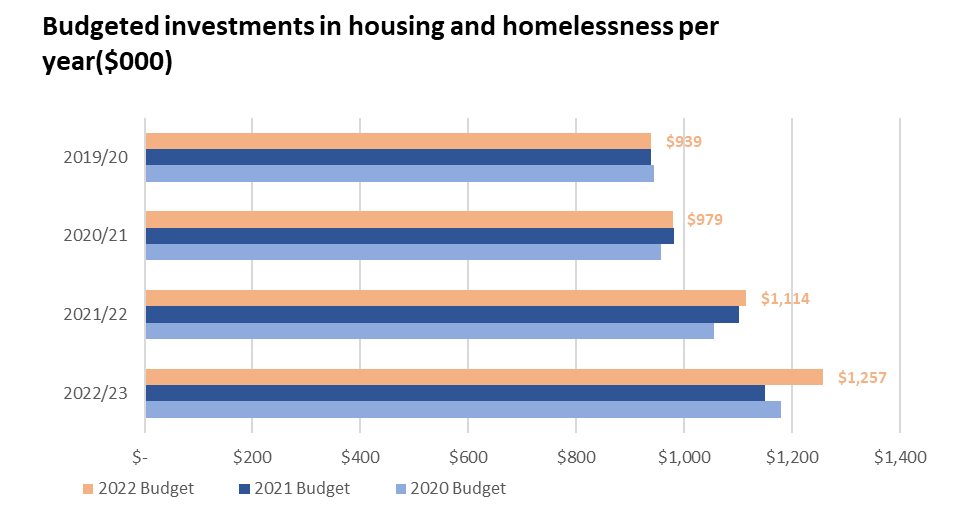 ---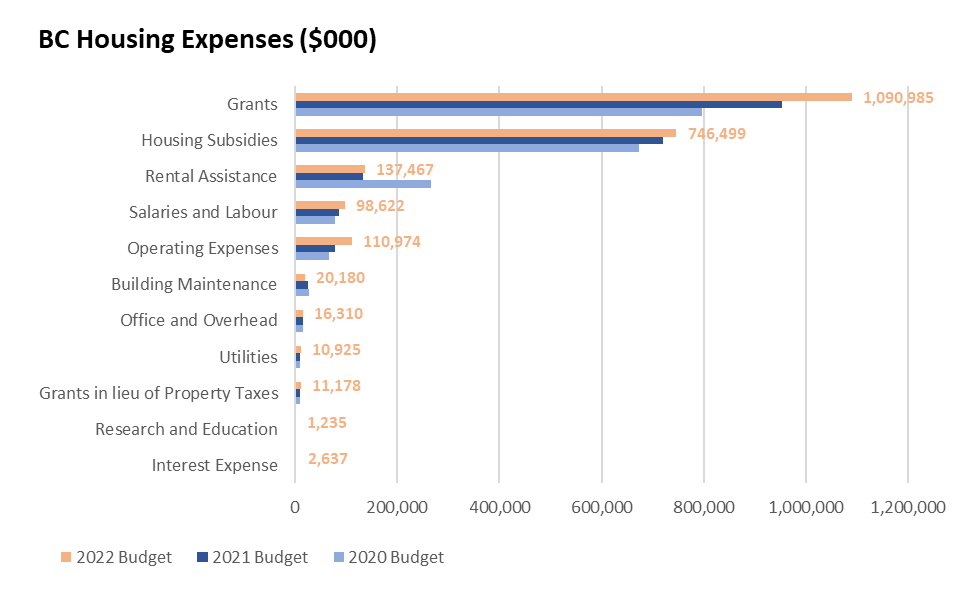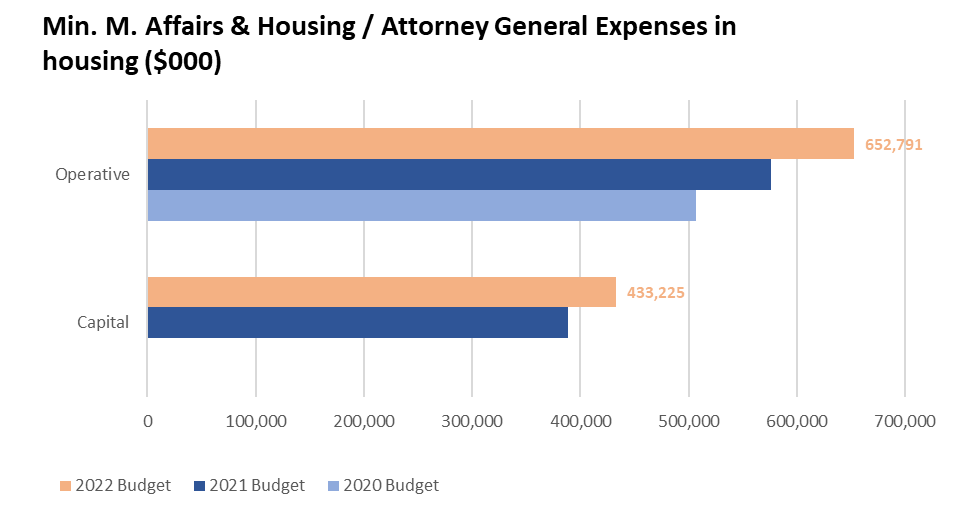 Reactions from our sector's leadership
Jill Atkey, CEO of BC Non-Profit Housing Association, commended the government for taking a step forward in expanding the funding available to support individuals experiencing homelessness. However, she reflected on the missed opportunity to improve affordable housing outcomes across the province.
"The good news in Budget 2022 is the $633-million expansion of critical supports for people experiencing homelessness. This funding is welcome news, but we're disappointed that those waiting for an affordable home will need to wait longer because this budget accelerated planned spending on only 850 of the 10,000 affordable homes currently lined up and awaiting funding. The sooner they're funded, the sooner people can move in."
Thom Armstrong, CEO of the Co-operative Housing Federation of BC, expressed his disappointment in seeing how the budget fell short on giving a response that is bold enough to deal with the crisis, while highlighting key policy omissions that will perpetuate the status quo.
"In 2018 this government made a bold commitment to invest in the development of 114,000 new affordable homes by 2028. That was the right thing to do at the time, but the housing landscape has shifted dramatically, and a similarly bold response is needed in 2022. This budget doesn't deliver that response, and that means a critical shortage of affordable housing will only get worse. The biggest omission in the budget is the lack of any attention to the loss of affordable homes from the existing rental market. If we continue to lose three affordable homes for every new home delivered in the government's housing strategy, we will never reach our goal of ensuring that everyone has a safe, secure, affordable place to call home."
Margaret Pfoh, CEO of the Aboriginal Housing Management Association, highlighted the inability of the 2022 Budget to bring solutions tailored to the needs of northern, rural and urban Indigenous peoples and communities.
"The budget lacks the specific means and measures needed to address the growing housing issues experienced by Indigenous people residing in rural, urban, and northern communities. AHMA released B.C.'s first-ever provincial Urban, Rural and Northern Indigenous Housing Strategy and we're calling on our government to support and implement our strategy to ensure all Indigenous peoples can access culturally safe and affordable housing."