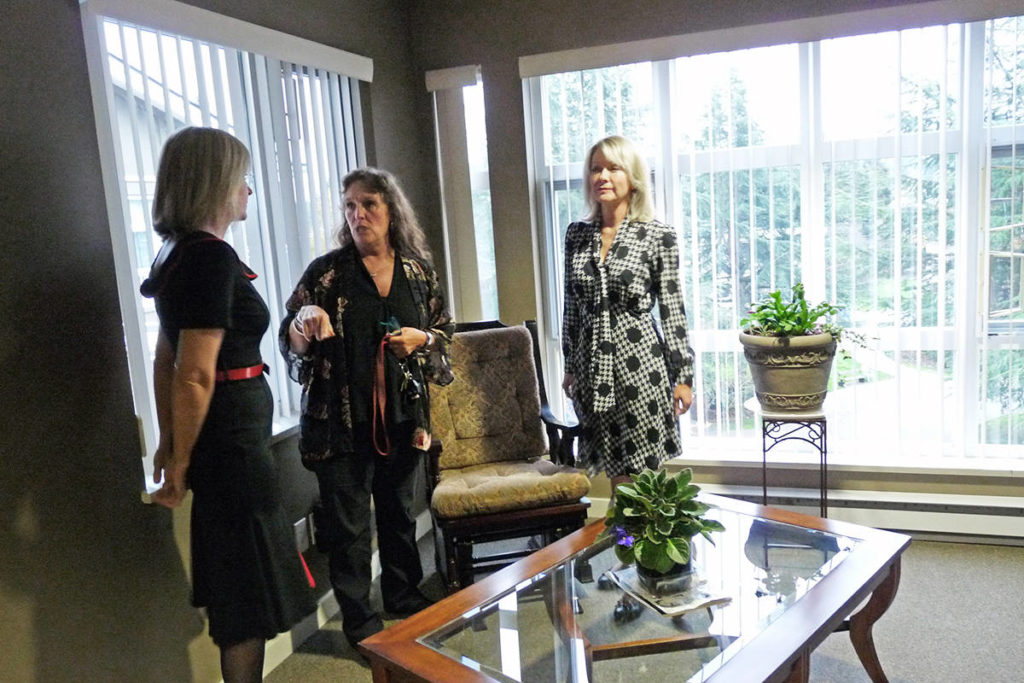 Dan Ferguson / BC Local News / November 13, 2018 (with quote from BCNPHA CEO Jill Atkey)
Two Langley housing projects that will provide 191 homes for families, seniors and people with disabilities were among 72 affordable housing projects making up more than 4,900 homes announced Tuesday by the provincial government.
READ MORE: B.C. to invest $492 million in affordable homes
The first wave of announcements are part of the Building BC: Community Housing Fund, announced earlier this year, that plans to spend $1.9 billion over the coming decade to build more than 114,000 affordable rental homes for those with low to middle incomes.
The announcement said the Langley Lions Housing Society will get $9.4 million to build 94 homes for seniors and people with disabilities.
The official news did not appear to have landed Tuesday afternoon, when Jeanette Dagenais, executive director of the society, was giving a tour of the Langley residential complex to federal Conservative house leader Candice Bergen and Tamara Jansen, the Conservative party candidate for Cloverdale-Langley City riding.
Dagenais said she hadn't received word from the province and could not, as a result, comment on the announcement.
An official in the provincial Ministry of Municipal Affairs and Housing told Black Press a letter had been sent to the society, and so had an email.
Bergen and Jansen both said the Conservative party supports affordable housing initiatives, but would like to see private sector expertise applied to the issue.
"This is a big concern, locally, Jansen said.
Bergen said the party would like to a see a more targeted approach designed to aid specific groups, like young professionals, struggling to find a home they can afford.
"You can actually solve problems better when you have more information," Bergen said.
The fund will direct $9.7 million to the Christian Life Assembly (CLA) church in Langley to build 97 homes for families and seniors.
In an online post, CLA Lead Pastor Derrick Hamre said the 97-unit housing project would cost $30 million and would be "mixed affordable" with likely three levels or price points.
"The idea is a five-story wood frame building on a concrete parkade [on the church property]," Hamre said.
"It would beautify our property with walk-ways, park-like features, a playground, and community areas."
He said the CLA expects there would be no "significant costs incurred" by the church as the project will be cost-shared through a partnership with BC Housing and then covered by the building's rent and annual government subsidies.
The province said the 4,900 new projects will contain units aimed at a mix of income levels, including middle-income individuals and families, deeply subsidized rentals for seniors and others on fixed incomes, and homes for low-wage workers.
They will cost approximately $492 million.
"Years of inaction on the B.C. housing crisis left families struggling to get by and unable to get ahead," Premier John Horgan said in a written news release.
"These new, affordable rental homes are an important step toward addressing the housing crisis and giving families in every part of the province a break from skyrocketing housing costs."
The announcement was welcomed by the BC Non-Profit Housing Association (BCNPHA) and the Co-operative Housing Federation of BC (CHF BC), who issued a statement saying the organizations were " thrilled to see the first phase of this promised investment become a reality."
Jill Atkey, CEO of BCNPHA. called it a "historic investment in the community housing sector."
Thom Armstrong, executive director of CHF BC said the program will make "life more secure and affordable for families and seniors who have struggled in this very challenging housing market."
https://www.bclocalnews.com/news/langley-affordable-housing-projects-get-provincial-money/